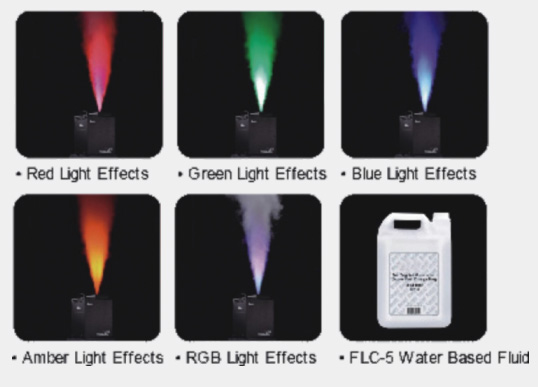 The new SF-A002A RGBA is the updated version of the original SF-A002 LED fog machine.
Amber LEDs have been added up to SF-A002A RGBA which allows its color mixing even more attractive.
Plus, optional W-DMX function is available on SF-A002A RGBA.
Features
1. RGBA LEDs on board.
2. Optional Wireless DMX available.
3. New structure design for multiple angle rigging
4. Auto sense frequency
5. Fluid tank compartment for ease of transportation
6. Huge output volume with high pigments LED colors
7. Great fit for Stage purpose
Specification
- Voltage : 110v/220v
- Breaker : 120V, 15A 250V 230V, 9A 250V
- Power Consumption : 1,550 W
- Initial Heat-Up Time : 5 mins
- Coverage Volume : Height 5 Meters, Width 1 Meter
- Max Operating Time : 8 seconds burst
- Fluid Consumption Rate : 150 ml / Min
- Tank Capacity : 2.4 liter
- Control Options : On-Board Control Panel
Wireless Remote DMX Master / Slave
- Weight : 11.5 Kg
- Dimensions (mm) : L 345 W 193 H 385.7